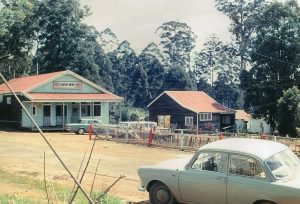 Photo – General Store – 1969
About us
The Friends of Donnelly Village came together as a group in 2012, and formally incorporated as a not for profit organisation with the West Australian Department of Commerce in February 2014.
Our official registered objective is:
To collect and preserve the history, natural industrial and social fabric of Donnelly Village, including Wheatley Village and Forest Settlement, Donnelly Mill and Donnelly River Village; development of interactive trails, displays and events.
Vision
To research, record and preserve the history of the village and environs which are heritage listed as an important record of social and industrial history of the period when the area was an active forestry settlement, timber mill and mill town.
For present and future generations to have access to this unique part of the history of Western Australia. Our full rules of association follow Western Australian Department of Commerce 'Model Rules' of Association.