A short history of the Donnelly River Mill
The mill, which processed mainly karri, was powered by a single cylinder horizontal steam engine built by Robey's of Lincoln, England, and purchased from Onkaparinga Woollen Mills in Lobethal, South Australia, in 1947.
By the early 1960s, Donnelly River Mill was considered to be one of the most efficient timber mills in Australia. Operated by 120 men, the mill processed 25,000 super feet of timber per day. It had a large planing section where karri and some jarrah were manufactured into a variety of products, including floor and other boards. The mill also produced over 300,000 fruit cases each year for Western Australia's apple export industry.
The mill, the mainstay of the village, is heritage listed and owned by the State Government. Bunnings Pty Ltd at the time of closure handed the mill to the government 'for the benefit of the people' with the machinery and workings deliberately left intact for this purpose.
Unfortunately, the mill is now in great disrepair and to lose this significant heritage building which has played such an important part in the history of Western Australia's timber milling would be amiss.  Therefore, the Friends of Donnelly Village are currently working closely with the State Government to hopefully remedy this situation and have the mill restored to the point where part of it can be opened to the public.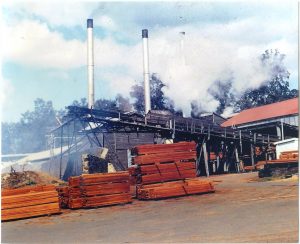 Mill Conveyor and cut timber ready to transport