Please check our EVENTS page for details of what we are doing and what we have planned.  You can also keep up to date with us on our facebook page: https://www.facebook.com/Friends-of-Donnelly-Village-512724818842699/
Next Meeting TBA
Next meeting for members will be advised shortly.
Can you help?

Do you have any information on this coin?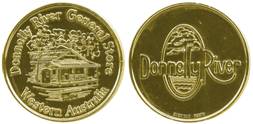 The Friends of Donnelly Village are eager to learn who organised this coin to be minted, why was it minted, who were the recipient/s of this coin and why, and do you have one of these coins?
The WA Numismatic Society have informed the Friends of Donnelly Village they have one of these coins in their collection and would appreciate help to find out more information. The Numismatic Society have advised that the coin is gold plated copper, minted in June 1986 with a mintage of 200 and the reverse side of the coin has Donnelly River/Sheridan Perth.
Please email chair@friendsofdonnelly.org.au if you have any information.
Research – Jack Surina
We are currently compiling a history on a former resident of note called Jack Surina, who died 14th September 1999 aged 98. Our aim is to make available to the general public any facts or anecdotes about Jack.
The Friends of Donnelly Village with their current research have found that there are many stories waiting to be retold and we would love yours to share.
Please write or email your story to;
FODV Chair
c/- 18A Venn Street
North Perth
WA 6006
or
email to: chair@friendsofdonnelly.org.au